Hello Dragon Boat Enthusiasts!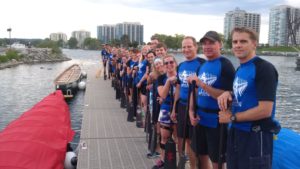 Happy Holidays from all of us at Dragon Boat Barrie! We are pleased to announce preliminary plans for the 2015 Season. Please see details below!
In this issue:
2015 Season Plans
PaddleStrong Fit Testing
Gift Certificates available
Share Your Photos!
AGM – Call for Nominations
2015 Season Plans
We are pleased to announce the 2015 Season Plans for PaddleAvengers, PowerStrokes, and PaddleStrong (subject to change):
PaddleAvengers: Our novice paddling team will be practicing once a week with races in Port Perry and Barrie. Details available here: http://dragonboatbarrie.com/teams/paddleavengers/2015-season/
PowerStrokes: Our intermediate paddling team will also be practicing once a week, with three races including GWN Sport, Barrie, and GWN Challenge. Details available here: http://dragonboatbarrie.com/teams/powerstrokes/2015-season/
PaddleStrong: Our competitive paddling team will be practicing twice per week and will be attending the following four races: St. Catharines, GWN Sport, Belleville, and GWN Challenge. Details available here: http://dragonboatbarrie.com/teams/paddlestrong/2015-season/
Please note that there will also be a PaddleStrong team meeting on Thursday January 8 to discuss the team's season, as well as some additional paddling opportunities. To ensure you are on the PaddleStrong e-mail list, please reply back to this e-mail and request to be added if you are interested.
That's What She Said: The 2015 season plan for our women's team is still in the works, and will be announced sometime in the new year.
PaddleStrong Fit Testing – Respond by Dec 30th
As PaddleStrong moves toward the 2015 season, the energy is high for making this upcoming season the best ever! With the commitment we have had towards pool paddling and the sport specific workout after, this winter has seen everyone really committing to preparing for a spring of preparation and improvement.
With everyone belonging to different gyms, studios etc and everyone has their own program that they follow, we thought that as a team moving forward it would be a great idea to have a "bench mark" fitness test to help everyone see where they are now and then repeat the test at the start of the season.
A baseline testing date has been set for Tuesday January 13, from 6:30 to 8:30 pm at Alexacise Studio located at 361 King Street, Unit 5 (upstairs) in Barrie's south end.
Fit Testing is strongly recommended for all PaddleStrong members, as well as all those interested in joining PaddleStrong in 2015.
For more details, please click here: http://dragonboatbarrie.com/events/fittest/
Please confirm your attendance with Kathleen by December 30th at paddletheworld@sympatico.ca
Gift Certificates
Looking for some last minute Christmas gift ideas? Why not pick up some Dragon Boat Barrie gift certificates! Good for use towards any DBB team fee, training activity, or DBB swag! Order yours by December 19 to ensure delivery by Christmas: http://dragonboatbarrie.com/swag/
Share Your Photos!
Dragon Boat Barrie is looking for your 2014 dragon boat related photos to share in an upcoming 2015 calendar.  Please send photos to amber.sperling@dragonboatbarrie.com and indicate the photographer, date photo was taken (if known) and location (if known).
Annual General Meeting – Call for Nominations
We are still accepting nominations for President and Director of Special Events. To submit your nomination, please e-mail info@dragonboatbarrie.com .
As a reminder, the Annual General Meeting will be taking place on Thursday January 22, 2014. More details available here: http://dragonboatbarrie.com/events/agm/
—
Paddles Up!