A Journey Through History
Compiled and written by Kathleen Doherty, with contributions from the Barrie Public Library, and many of our members both past and present.
Dragon boat paddling in Barrie began in 2003. The Barrie Public Library (BPL), a registered charity and "not for profit" organization, was intrigued by an up and coming fundraising event as a possibility to replace their annual golf tournament. BPL brought together many aspects of the community including sponsors, local charities, participants, vendors and spectators for the first Barrie Dragon Boat Festival. One unique difference that BPL did over other dragon boat events was to open the fundraising for teams to choose a charity of their choice with a mandatory requirement for participating teams to fundraise. This gave local charities an event to collaborate and raise funds for their own organizations.
The First Barrie Dragon Boat Festival
In 2003, dragon boat festivals were growing in popularity throughout Ontario. BPL worked with "GWN Communications" (Great White North) and set out to implement the first Barrie Dragon Boat Festival. The event was meant to bring together the community, be as inclusive as possible for anyone to participate and a focus to support local charities.
An energetic and passionate paddler from Barrie, Bruce Saunders, responded to an ad by BPL looking for anyone with expertise in dragon boating. If you have ever met Bruce, you would know his true love of this sport. Bruce had been paddling dragon boat for several years on the Shalon Monks, a competitive team out of Toronto, and had international racing experience to share. He was the perfect ambassador to introduce the sport to Barrie and so this exciting history began. Bruce spent the spring and summer building teams and preparing them for the first Barrie Dragon Boat Festival.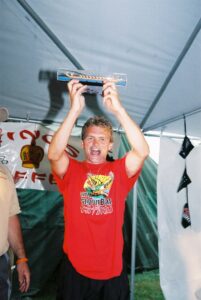 Bruce held several "indoor" practices at the library using chairs to represent the 10 rows of seats in a dragon boat "side by side". Broom handles were used to mimic a dragon boat paddle….talk about back to basic beginnings! Everyone had so much fun and fell in love with this new sport, even if it only was "carpet tiles" that they were stroking over! Bruce was able to tap into experienced dragon boat paddlers, with whom he had raced for many years in Toronto, to act as the steerspersons for the dragon boats at the festival and to offer some coaching for all participants on the day of the races.
The first festival took place at the Tiffin Boat Launch (prior to the renovations that you see today) in August 2003. A festival committee of local volunteers was formed to run the event and a vast community of volunteers, sponsors, donors, paddlers and spectators pulled together for a very successful event.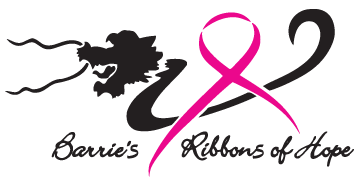 Many charities and community organizations rallied around the energy of the dragon boat festival through participation and fundraising. The Barrie's Ribbons of Hope formed their first crew of courageous breast cancer survivors in 2003. They later registered as a charity in 2005 and, with the help of a Trillium grant in 2007, purchased their first dragon boat generously maintained and stored by the BPL to this date. This amazing group of women has raised over $170,000 to date for various charities and continue raising awareness of life after breast cancer and to demonstrate that those who experience breast cancer can lead full and active lives! Other charities have fundraised significant funds through the festival including Muscular Dystrophy, Candlelighters, Hospice Simcoe and Gilda's Club to name just a few. Dragon boat paddling has also provided an opportunity for many paddlers of various abilities; the first several years included a team whose members were all deaf, several participants use wheel chairs and paddlers of all ages and abilities get in the boats to race in the festival.
The success of this first festival in 2003 was truly the result of outstanding community teamwork and support. Aside from the festival committee, there were hundreds of volunteers that volunteered for the festival setup and on the day of the event and many more through each of the charities and teams. The Department of National Defence, Base Borden, provided manpower to assist at the festival and set up a tent for each team that entered. The local Knights of Columbus set up and ran the beer tent on site. Each team was required to appoint a "Team Captain" who pulled their crews together with a wide mix of first-time paddlers from local businesses, charities, not for profit agencies, friends, families, etc. BPL coordinated all the logistics for race day, GWN set up the race course and ran the races and provided rented dragon boats for the teams to have on the water practices prior to race day. Bruce Saunders coached ALL of the dragon boat teams, teaching the paddlers how to paddle, what the dragon boat commands were and how to be best prepared for success in the races.
A hard-working group of community volunteers were assembled to form the Dragon Boat Festival Committee who completed many tasks, assignments and roles at the festival. Without their commitment and dedication, the success of the festival would never have been reached. Even to this day, some 17 years later, most of these same committee members are still actively involved in the festival. This first festival had 39 teams participating. In the past couple years, the Barrie Dragon Boat Festival has attracted over 55 teams and in prior years has maxed out at 60 teams!
2005 – 2007 Dragon Boat Paddling in Barrie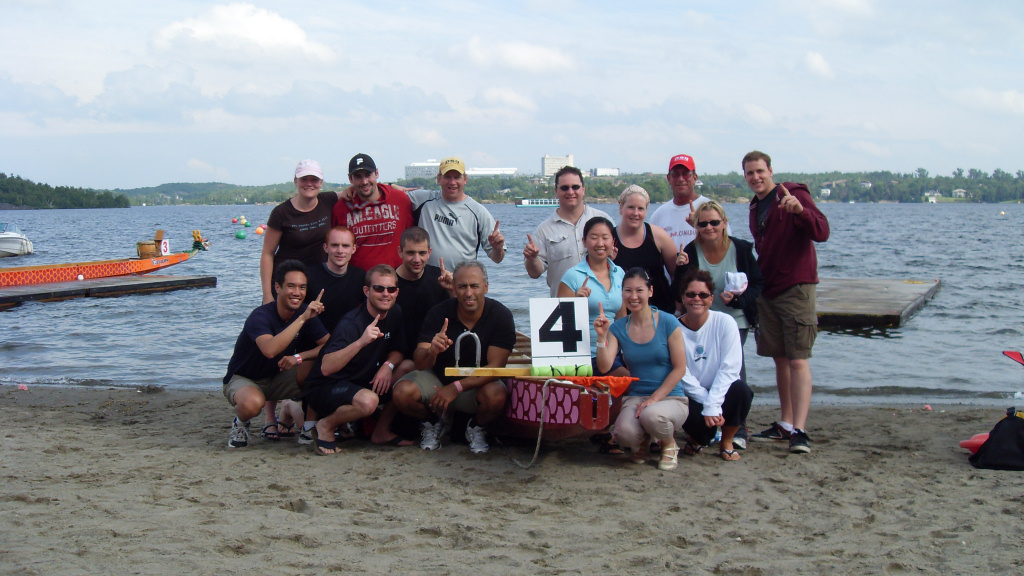 The festival gained momentum with more teams and volunteers participating each year, and the interest in dragon boat paddling grew. Bruce, and some avid paddlers, began a competitive team that wanted to practice more frequently throughout the entire season and race at other local festivals in Ontario. A sponsor was secured, Air Georgian, and team "Air Georgian Thunder" was formed. The team name was later changed to "Barrie Thunder" when the sponsorship ceased, and paddlers covered the costs themselves. There was an appetite in Barrie to paddle with a competitive purpose. In 2006, Barrie entered its first all woman's crew into Ontario's only all women dragon boat festival run by the Outer Harbour Dragon Boat Club (recently renamed True North Dragon Boat Club). Barrie had began to explore the world of competitive dragon boat racing!
The Children's Aid Society also jumped on board with dragon boat paddling. With Bruce's leadership, he partnered with the Development Department of the Children's Aid Society and formed an organizing committee of volunteers. They planned for a 24-Hour Dragon Boat Relay event in 2005. The event was such a success that it ran again in 2006. Teams gathered on Kempenfelt Bay as two dragon boats relayed for an entire 24 hours while enjoying games, live entertainment and food from all kinds of local sponsors.
In the Festival's third year, Moore Packaging donated Barrie's first Dragon Boat to BPL to support the festival and give the teams an opportunity for more water practices prior to the festival races. In 2007, Barrie's Ribbons of Hope purchased their own dragon boat which was added to the small fleet used by the BPL for team practices throughout the summer. Several years later the BPL accumulated more dragon boats (some used, some new) which opened up water practices, programs and team development for various events, business and team practices. The boats used in Barrie are "big boats", or the newer hybrid design as consideration is given to the unique water conditions experienced on Kempenfelt Bay. The dragon boats used today are managed by the BPL and "rented" back to the club/crews for use by the respective teams.
Interest in the sport continues to grow with paddlers seeking coaching certification in dragon boat through Dragon Boat Canada and attending various dragon boat training camps over the years (Florida, Ohio, South Carolina). BPL over the years has organized steering clinics to develop festival steer persons, drumming clinics, and sharing contacts for teams to hire a coach to prepare for festival races. With the addition of boats, opened the opportunity for entire summer of practices which were coordinated and run by qualified students assisting with team practice scheduling, ensuring safety equipment available, coordinating teams needing paddlers and any other duties of support.
A couple of years after the first festival the event location was moved to Heritage park prior to the waterfront construction and major renovations. A few years after the first festival the event date was changed to the last Saturday of August to allow more preparation time for the actual festival as well as more opportunity for paddling practices for the dedicated teams that were being formed.
2008 – Loss of our Founding Inspiration (Bruce Saunders)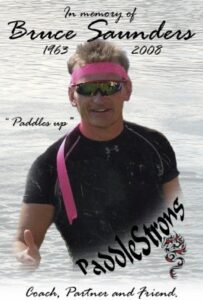 Sadly in 2008, Bruce Saunders passed away after a long fight with cancer. His passion for dragon boat, and his commitment to the festival, is still prominent. Bruce's dream and vision greatly contributed to the success of the festival and growth of dragon boat paddling in Barrie. It truly has been his legacy…….and why his passion and dedication to the sport will never be forgotten. He was presented two awards for his commitment and contributions to the Barrie community (from MPP Patrick Brown and PM Stephen Harper). The Festival presents an annual award to the rookie team of the year at each festival in his honour. Bruce received the Post Humous Spirit Catcher award presented by the City of Barrie in 2008 for his dedication and hard work with the festival.
2009 – Birth of "PaddleStrong"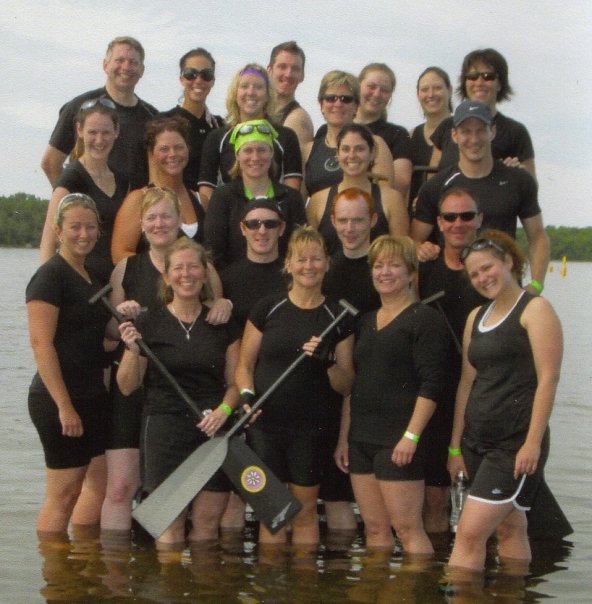 In 2009, the Barrie team "Paddlestrong" paddled in Bruce's memory. Surveys were sent out to interested paddlers and a season plan around practices, festivals, and costs was finalized. Alex Wilson accepted the role of coach with a training plan provided by Alkame (Scott Murray) from Pickering. Team sponsors, were secured to cover some of the team costs, included RBC and the Aerarium Group. PaddleStrong became a dedicated and committed group of local athletes who successfully raised funds for a variety of local charities and who competed a several festivals outside of Barrie. There was still a hunger for Barrie to be competitive in the sport across Ontario. At this time, there were approximately 25 dedicated members. Paddlestrong raced Barrie Thunder in the final race at the Barrie Dragon Boat Festival placing 2nd to their local rivals. Barrie Thunder disbanded after 2009.
In late 2009, along with the director of the Barrie Rowing Club, efforts were made to visit and talk to several other rowing and paddling clubs to learn more about club development with the idea to start a more structured Barrie Dragon Boat Club.
Members of "PaddleStrong" took the existing women's crew and formalized a plan and team name "That's What She Said" (TWSS) in response to an interest to form a women's crew with paddlers from any dragon boat team who wanted to compete.
2010 – Birth of the "Barrie Dragon Boat Club"
In April of 2010, a dedicated core group of dragon boat paddlers laid the foundation for the Barrie Dragon Boat Club. Expertise was sought and received from the Director of Dragon Boat Canada, Chloe Greenhalgh, as well as owner and head coach Scott Murray of Alkame Dragon Boat Services and Pickering Dragon Boat Club. A strategic planning session was organized led by Scott Murray (Alkame) and attended by Tracy Latimer, Kathleen Doherty, Karen Clark and Pam Colquhoun with the intent to apply for "not for profit" status and draft a club constitution for the first time, laying the foundation for a year-round dragon boat club. The vision and mission for the club were finalized and the "not for profit" status received under the name BARRIE DRAGON BOAT CLUB (BDBC).
For the next season, which had originally been anticipated to be the actual launch of the club, the original Board members for the BDBC began to transition to other personal priorities as did the anticipated small starting membership of paddlers and volunteers. The dedicated dragon boat paddlers within Barrie once again rallied together the following year, refusing to let this dream of a club within Barrie disappear and to reignite the vision and mission for a dragon boat club.
2012 – Rebirth of a Dragon Boat Club Dream – "Dragon Boat Barrie"
Teams: That's What She Said, PowerStrokes
On the 25th July 2012, the first official meeting of today's club founding members (Sean Levison, Kenji Masuda, Amber Sperling, Christie Clark and Kathleen Doherty) met to finalize what was needed to make this dream of a club a reality! Permission was granted from the McLaren Art Gallery for use of the "Spirit Catcher" as the official club logo. The website was created to advertise and share information about the club, the teams and how anyone could get involved.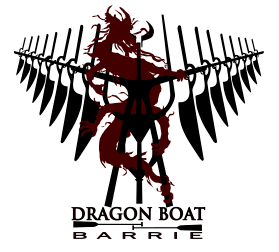 The club, in an effort to begin showcasing their formation, organized and hosted a special 2 km race the Friday before the Barrie Dragon Boat Festival, being held on Saturday 25th August 2012, with passionate Barrie dragon boat paddlers participating!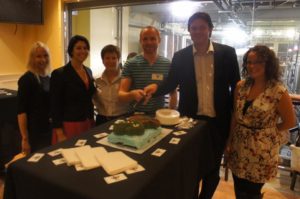 On the 4th October 2012, as a result of all their efforts, the official launch party was held for the new and official "Dragon Boat Barrie" club. A revised "not for profit "status was applied for under the new name with an updated constitution and expanded Board member roster representing local businesses. Sean Levison became the first President of the new club and continues in this role to this date.
On the 30th October 2012, the first official Annual General Meeting was held for the new club with the official "not for profit" incorporated status was received on the 16th November 2012.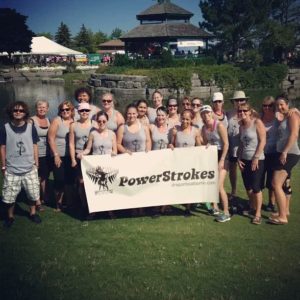 It was also in this year that the team "PowerStrokes" was created under the club umbrella.
2013 – Expansion of Training and Community Participation
In January of 2013, the club held its first winter training session at the Barrie Rowing club which involved indoor rowing classes and core exercise workouts. It was because of the strong relationship built with the Head Coach of the rowing club, Jurgen Schubert, that joint training ventures such as this were possible.
In April of 2013, in an effort to attract new participants to the club and to try the wonderful sport of dragon boat paddling, a 4 and 6 week "introduction training program" was launched. This program was specifically designed as an introduction to try out paddling and for those not quite ready to make the commitment to joining a team. It proved very successful, attracting many of the paddlers that are still members to this day.
June 2013 – DBB participates in "Celebrate Barrie" for the first time to further promote club
2014 – 2018 New Events/Programs
New Teams: PaddleAvengers, Mixed Barries, Northmen, Busch Buccaneers

May 2014 – "PaddleAvengers" crew is formed as an entry level crew for those wishing to paddle on an organized team and new to the sport
July 27th, 2014 – DBB hosts a "5 km Around the Bay" fundraiser for the Barrie Heart and Stroke Foundation
April 2015 – DBB hosts new "dryland training" sessions for the first time during the off season which included pool paddling and gym workouts at the Allandale Recreation Centre. Yoga classes were also offered to club members for the first time
July 2015 – DBB hosts 2nd "5 km Around the Bay" fundraiser for the Barrie Heart and Stroke Foundation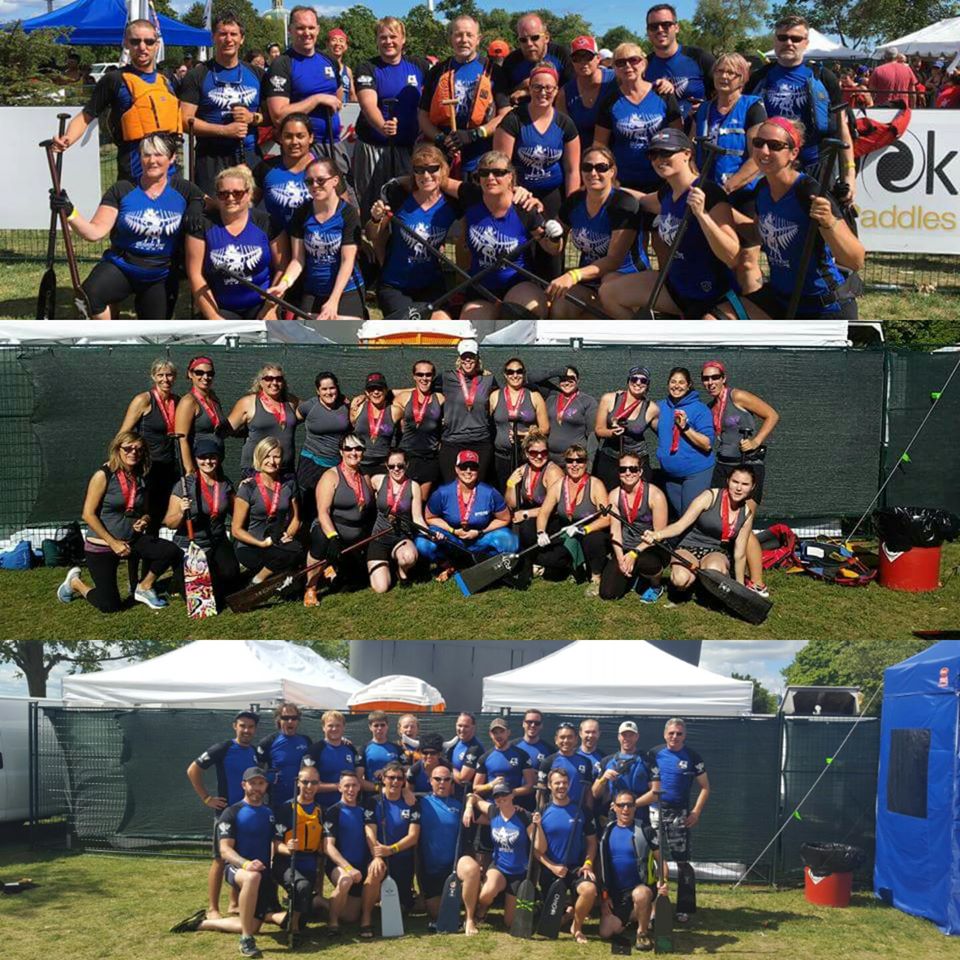 February 2018 – DBB enters a team for the Ottawa Ice Dragon Boat Festival, compiling any interested paddlers from within the club and entered themselves as the "Mixed Barries"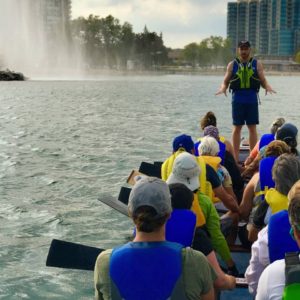 May 2018 – DBB introduces that the "Learn to Paddle" twice weekly sessions to the public AT NO COST. This program provide two, one hour, dragon boat paddling lessons in the dragon boat by a volunteer coach from the club. Participants are able to attend as many as they like for the duration of the season
October 2018 – long-time members and steers for DBB, Nathan McCarthy and Jeff Aldridge, expanded on the existing DBB corporate team building program and launched in partnership with DBB a "one of a kind" corporate/team building program, "Corporate Recess". The program consists of a three-hour window where the participants engage in dragon boat paddling, team building games and intro to racing……well received and continued as an annual program offered by DBB
2019 – Dragon Boat Barrie
New Teams: The Grizzlies U24, The Eh! Team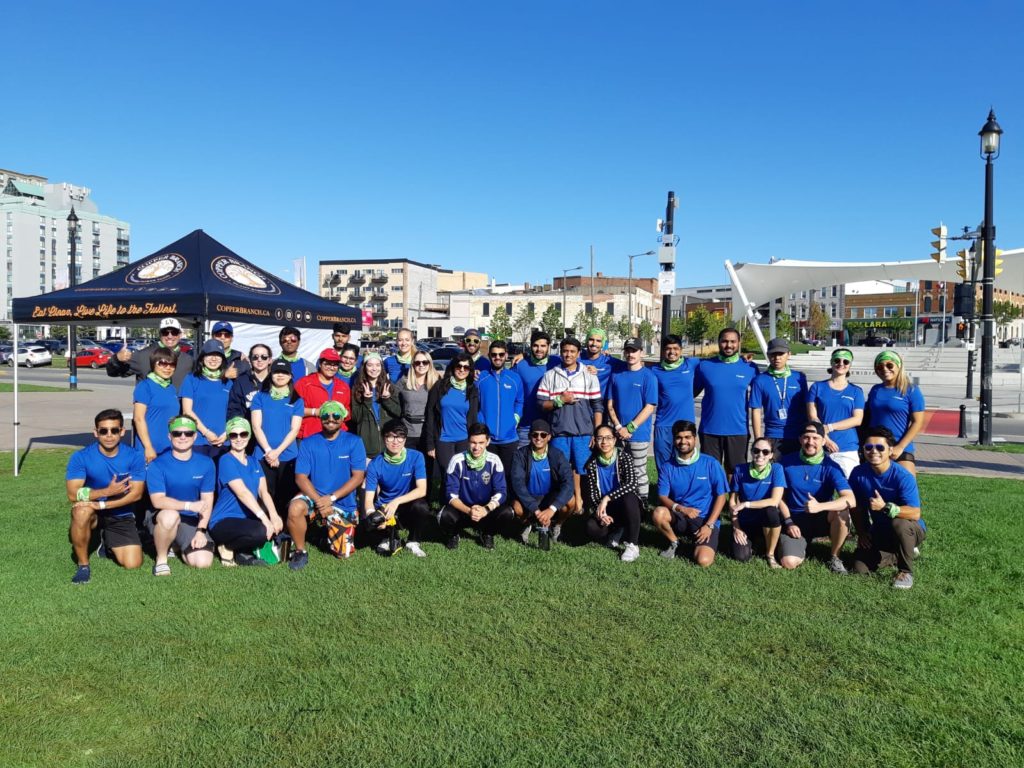 February 2019 – corporate / team building program begun last season now officially known as "Corporate Recess" by DBB to specifically target local businesses and groups. The aim is to provide business community with a unique team building initiative to inspire and expose employees and volunteers to the world of dragon boat paddling
May 2019 – launch of partnership with Georgian College and new team the "Grizzlies". This team represents the first "under 24 years of age" (U24) crew to race under DBB
May 2019 – a new team joins DBB umbrella, "The Eh! Team", a group of local long time recreational paddlers/friends participating in weekly coached practices
Currently, there are 8 teams under the club umbrella:
PaddleStrong (est. 2009)
That's What She Said (est. 2007)
PowerStrokes (est. 2012)
PaddleAvengers (est. 2014)
Busch Buccaneers – Paddles of Fury (est. 2015)
Barrie Northmen (est. 2016)
Georgian College Grizzlies (U24) (est. 2019)
The Eh! Team (est. 2006, joined DBB January 2019)
Mixed Barrie's (specific club entry February 2018 for Ottawa Ice Dragon Boat Festival, and various other festivals)
Total membership at the close of the 2019 season is approximately 120 members and growing.