Vision
To grow as a dragon boat club with an established identity within the community promoting education, training, recreation and competition in the sport of dragon boat paddling.
Mission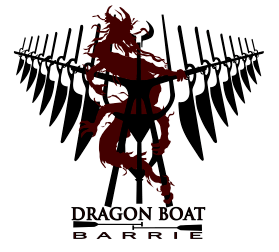 The mission of Dragon Boat Barrie, a not-for-profit organization, is to provide an opportunity of community wide participation in the sport of dragon boat paddling. In addition, Dragon Boat Barrie and its members will serve to promote the recreational and health benefits of dragon boat paddling and act as ambassadors for the community through special events, fundraising efforts, and competitive and recreational paddling programs.
Core Values
SafetyEnsure the provision of a safe paddling environment for all participants in all activities.
TeamworkFoster an environment balanced with sportsmanship, teamwork and camaraderie while motivating each member to achieve their personal bests.
ExcellenceDevelop within the members a desire to achieve excellence for club and community initiatives on and off the water.
RespectEach member is valued as an individual and as a club member; we value equality, integrity, and respect.
CommunityFoster an environment based on common values expressed by working together in our dragon boat club towards our common Vision and Mission.
We achieve these core values by working collectively for the greater good of the club.