Spring Training and Season Launch Party
Hello Paddling Enthusiasts!
We are only a few weeks away to getting back out on the water!
Want to get a leg up on the competition? Come out for spring training at the Allandale Rec Centre, and be sure to check out our 2015 Season Launch Party. Details below!
Spring Training Session – Thursday evenings, starting April 9
Thursday nights we are going to build strength, speed and team camaraderie at the Allandale Rec Centre.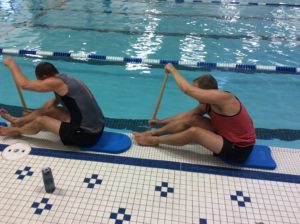 The class will run from 7-8pm with Alex Wilson in the gym for circuit conditioning and then we move to the pool from 8:00pm-8:30pm . We are set to start on April 9th and we will run for 6 weeks which brings us to May 14th .  The fee per person is $33.45 for residents of Barrie and $41.45 for non-residents.
To register, please visit this website: https://onlineca.activecommunities.com/barrierec/Start/Start.asp
The course is called Dragon Boat Barrie Dryland Conditioning and the barcode is 112276 . You can register online using the previous link. To find the course enter the barcode in the search box . You need to have an account with the City of Barrie to register online. You can create an account at that site as well by clicking on the create account tab which is located at top right hand side of the page.
You can also register at the front desk at any one of our recreation centres (East Bayfield, Holly or Allandale Rec Centre)
Please contact PaddleStrong Team Captain Amber Sperling at if you have any questions.
2015 Season Launch Party – Tuesday May 5th
Save the date, and come find out about this years exciting paddling season!
Date:  Tuesday May 5, 2015
Location:  The Stone Grille, 7975 Yonge Street (Stroud)
Time:  7:30 – 10:00 p.m.
Cost:  $15.00 per person (may be purchased at the door)
Theme:  Cinco de Mayo
Prize for Best Cinco de Mayo costume!
Team Registration
We still have some spots remaining on some of our teams. Sign up now before it's too late!
For details on all of our teams, please go to http://dragonboatbarrie.com/teams/ 
Paddles Up!