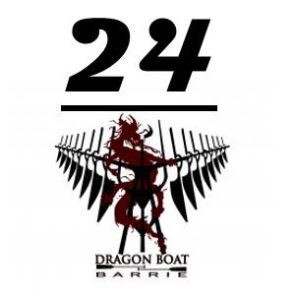 Introducing Dragon Boat Barrie U24, our club's team for athletes under the age of 24 (as of June 1st, 2019). Paddlers must be at least 16 years old.
Skill Level: Beginner / Intermediate
Practices: 1x per week on-water training for 14 weeks
Races: 2 races
Practices:
The U24s will begin weekly practices in the spring of 2019 starting May 22,  occurring every Wednesday until August 21. Practices are scheduled for 8:00 – 9:00 pm.
Festivals:
GWN Sport Regatta – Marilyn Bell Park – Saturday July 13th
Barrie – Saturday August 24th (Note: team must fundraise a minimum $500 for a charity of their choice)
Coach:
Carrie Gordon
Fees:
The 2019 season fees are: $225 Team Fee + $25 DBB fee = $250.00.
How to Register:
Complete our online Membership Application here (opens in new window)
Add $25 DBB Membership Fee to your Shopping Cart here:  
Add $225 U24 Team Fee to your Shopping Cart here:  
Proceed to checkout via the Shopping Cart on the right side of this page (below on a mobile device). Once your purchase has been made, a Dragon Boat Barrie representative will be in contact with you confirming your registration.
What does my team fee include?
professional coaching ($50 – $100 per team per practice)
boat rental ($110 per team per practice)
use of paddle and life jacket for all practices and races (up to $350 to buy new per paddler)
festival fees ($750 to $1,750 per team per festival)
What's not included?
team jersey (approximately $50, yours to keep)
transportation and accommodations for out of town races, if necessary
charitable fundraising requirements for various festivals (anywhere from $0 to $1,250 per team per festival)
Questions?