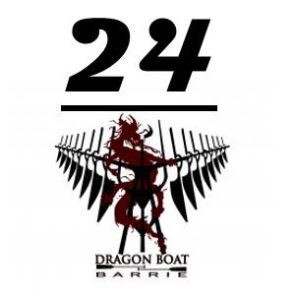 Introducing Dragon Boat Barrie U24, our club's team for athletes under the age of 24 (as of June 1st, 2019). Paddlers must be at least 16 years old.
We are partnering with Georgian College to make this team a reality. While anyone within the required age range is welcome to register, priority will be given to Georgian College students.
Skill Level: Beginner / Intermediate
Practices: 1x per week on-water training for 12 weeks
Races: 1 race
Practices:
The U24s will begin weekly practices starting June 5, occurring every Wednesday until August 21. Practices are scheduled for 8:00 – 9:00 pm.
Festivals:
Barrie – Saturday August 24th (Note: team must fund-raise a minimum $500 for a charity of their choice)
Coach:
Carrie Gordon
Fees:
The 2019 season fees are: $15 Team Fee + $25 DBB fee = $40.00.
You can either pay online, via e-transfer to , or with cash to your Georgian College or Dragon Boat Barrie team representative.
How to Register:
Complete our online Membership Application here (opens in new window)
Make sure to also add the DBB Membership Fee if you have not already paid for this season.
Proceed to checkout via the Shopping Cart. Once your purchase has been made, a Dragon Boat Barrie representative will be in contact with you confirming your registration.
What does my team fee include?
professional coaching ($50 – $100 per team per practice)
boat rental ($110 per team per practice)
use of paddle and life jacket for all practices and races (up to $350 to buy new per paddler)
festival fees ($750 to $1,750 per team per festival)
What's not included?
team jersey (approximately $50, yours to keep)
transportation and accommodations for out of town races, if necessary
charitable fundraising requirements for various festivals (anywhere from $0 to $1,250 per team per festival)
Questions?