PowerStrokes – Intermediate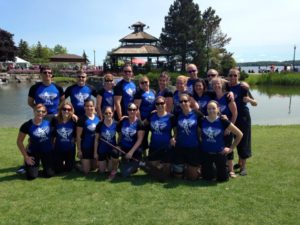 The PowerStrokes Dragon Boat Team was created to give those people in the community a chance to improve their dragon boating skills while gaining experience through community and competitive dragon boat events without having to fully commit themselves to the training regimen of a fully fledged competitive dragon boat racing team.
Designed for intermediate paddlers, we will paddle together for several weeks over the course of the summer, culminating in the Barrie Dragon Boat Festival in Barrie, along with two other festivals.
Skill Level: Intermediate
Practices: Minimum 1x per week, both on-water and dry-land training
Races: At Least 2 races throughout the summer
Practices:
PowerStrokes will begin weekly practices starting May 23rd, occurring every Thursday. Practices are scheduled for 6:30pm to 7:30pm. Our last practice will be September 5th for a total of 16 practices.
Festivals:
PowerStrokes will be participating in the following festivals for the 2018 season:
Welland Dragon Boat Festival – Welland International Flatwater Centre – Saturday June 8th
Barrie Dragon Boat festival – Heritage Park, Barrie – Saturday August 24th
GWN Challenge – Marilyn Bell Park, Toronto – Saturday September 7th & Sunday September 8th
Coach:
Nicole Emmonds
Fees:
The 2019 season fees are:
$25 Dragon Boat Barrie club fee, if not already paid for the season
$225 team fee which will include coaching, practices, festival fees, and steers person
Registration:
Complete our online Membership Application here (opens in new window)
Make sure to also add the DBB Membership Fee if you have not already paid for this season.
Proceed to checkout via the Shopping Cart. Once your purchase has been made, a Dragon Boat Barrie representative will be in contact with you confirming your registration.
What does my team fee include?
professional coaching ($50 – $100 per team per practice)
boat rental ($70 – $90 per team per practice)
use of paddle and life jacket for all practices and races (up to $350 to buy new per paddler)
festival fees ($750 to $1,750 per team per festival)
What's not included?
team jersey (approximately $40, yours to keep)
transportation and accommodations for out of town races, if necessary
charitable fundraising requirements for various festivals (anywhere from $0 to $1,250 per team per festival)
Questions?